Went to Silver Falls yesterday for a make-up/second chance hike. Actually, here's what happened. A woman in the meetup group was supposed to go with the group to Silver Falls on Saturday. She asked for a ride, and the guy who agreed to pick her up was quite late. So when the two of them got to the State Park, the group was already out on the trail. She called me that afternoon sounding pretty upset at the whole situation. I felt bad for her, but what could I do about it? I suggested that, as she doesn't work during the week, we could take a trip to the falls on Wednesday. She seemed to think that was a swell idea, so I began arranging a group to go to the falls during the week. At one point, I had 4 people planning to come with me for the hike.
Well, in the end, the aforementioned girl ended up not wanting/being able to come (why did I go to all this trouble anyway??) and another friend dropped out. Three of us ended up driving to the park but one woman anticipated that she wouldn't be feeling too well and didn't plan on staying long. That left 2 of us to make the hike.
Our plan/goal: hike the Trail of Ten Falls. As the two of us remaining had already seen the South Falls, we decided to walk the loop in an anti-clockwise direction. We passed by Winter Falls and arrived at North Falls (at 3 on the map below) with no problem. But thereafter, we ended up going completely in the wrong direction.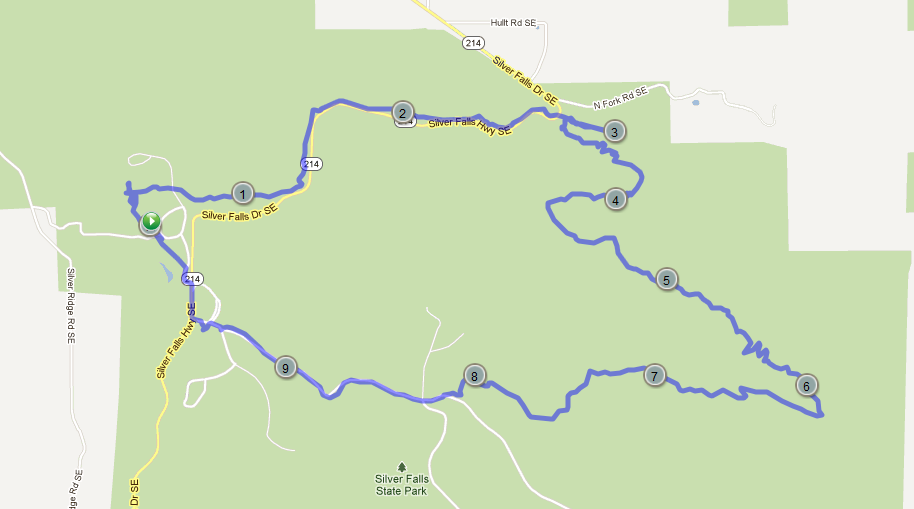 We didn't notice any trail other than one marked Perimeter Trail, so that's the one we took. Rather than loop us back around to the north and west, we traveled south and east (as can be seen in the map).
So, we didn't get to see many waterfalls, but it was a pleasant hike. A touch warm for my taste, but mostly under canopy.
This just means we'll have to give it another try.
Save