Shamrock Run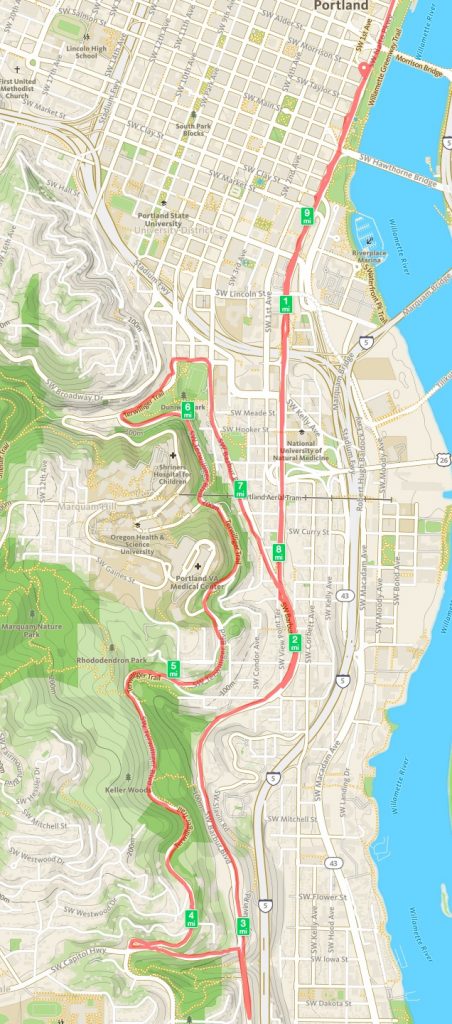 Back in December, my coworker, Kathryn, and I signed up for this year's 15k Shamrock Run. We both wanted the motivation to start training/running again.
For the first several weeks of training, I did well. I was getting to the gym a few nights per week and getting time in on the treadmill. But over the past month or so, things changed and my training went rather poorly, and I seriously considered bailing on the day, but my friend, Tyson convinced me to follow through with my plan, and I'm glad I did. To be honest though, if the forecast had indicated that it would be raining, I would have stayed home in bed for sure! As it was, the day was a mix of clouds and sun. The morning started off cold, but as usual, I warmed up pretty quickly once I started moving. By mile 2, I surely wished I had not worn a long sleeved shirt.
The map to the right shows my gps tracking for the course. Everything up through about mile 4 was mostly a gradual uphill run. The downhill portion was all in the latter half, for which I suppose I am grateful.
My official time was 2:01:25, which works out to be 13:01/mile. That's not great, but I'm pretty much just glad I finished. At the end of the run, my knees were sore, as were my hips and back. Today, those parts feel ok, but my quadriceps are feeling it. I'm sure that tomorrow, my whole body will once again be aching.
Kathryn is already talking about the 'next' race. We're looking at half marathons in the fall, as well as some triathlons that we would enter as a team (along with Alexis, our boss). It's strange. As much as I sort of dreaded this run as the date approached, now that it's completed, it's frightfully easy to contemplate doing something similar in the future. What is wrong with me?!?!
Driving home after the race took about an hour. When I exited my car at my apartment, walking was a challenge as my legs had stiffened up. I thought about going to the gym to sit and soak in the hot tub, but I wanted to watch some Iron Fist, so I parked myself on the couch, put my feet up, and watched 3 episodes. Then I went to Geoff and Jackie's for family dinner of corned beef, cabbage, potatoes, carrots, and corn bread. Jackie sent some extra corned beef home with me, so that's lunch today. I should probably go to Safeway and get some bananas to assist with my recovery.
Save
Save
Save
Save
Save