Relationships as a zero-sum game
I was discussing this with a new friend yesterday and she agreed that it was blog-worthy.
I have a particular way of conceptualizing my capacity for relationships. I see it as a zero-sum game. I have a finite amount of attention, energy, and interest in pursuing, improving, and maintaining relationships. If one person's allocation of my time is to increase, that portion must come from somewhere. And if a new person is to enter my life, other relationships must be downsized in order to make room.
Here's an illustration.
This graph shows how much of my attention is spent on the various members of the Brady family.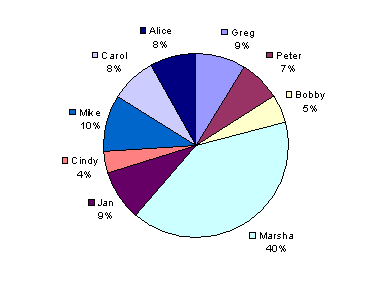 The numbers add up to 100%. Now, when I am forced to add another person to this pie, the numbers have to shift.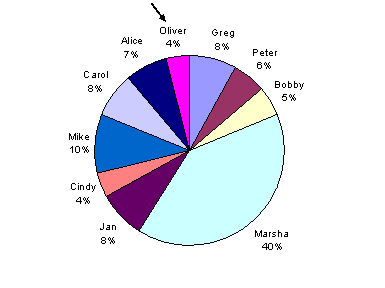 In discussing this imagery with friends, I have had some respond by saying that they don't need to reduce what they have in order to add a new person to the mix. Poppycock, I say. I do think that people have differing capacities for relationships. 100% to one person is a different quantity than 100% to another.
Well, enough about that. Thanks, Stacy.
Save